Sparkle 7553
Maltese/Poodle Mix
Female
Small (6-20 lbs)
Status: In hospice care
Maltese/Poodle Mix
Female
Small (6-20 lbs)
Status: In hospice care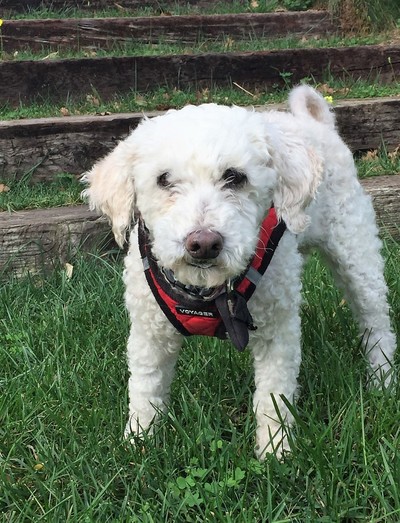 Sparkle is a diamond in the ruff!
Who doesn't need a little extra Sparkle in their life…am I right?? Adorable little Sparkle is just about as sweet as they come. She has beautiful big brown eyes and we know that her coat is curly and fluffy (once it grows back!). She adores scratches behind the ears and will be your friend for life if you do so. Sparkle has been through quite a bit, and deserves to be taken care of like the princess that she is! She would be a wonderful addition to any family and we can't wait to see who gets to call her their very own.
Sparkle is estimated to be 10 years young and weighs 14 lbs.
After being diagnosed with a terminal illness, Sparkle is living life to the fullest in our Hospice Program, under which one of our special hospice families has provided her with a loving home and the very best possible end-of-life care. Please wish Sparkle well!

Would you like to support the dogs in Muttville's Hospice Program through a donation? Click here to donate items, services or funds.