Sooki 1442
Pomeranian/Sheltie mix
Female
Small (6-20 lbs)
Status: Adopted
Pomeranian/Sheltie mix
Female
Small (6-20 lbs)
Status: Adopted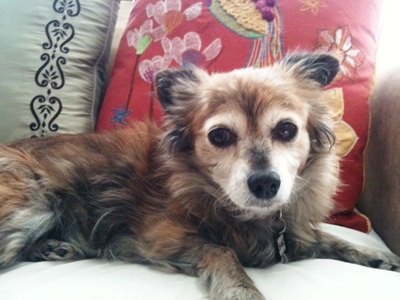 Sookie is about 10 years old and looks like a tri color mini sheltie-pom, she weighs about 8 pounds. She was abandoned at the Stockton animal shelter, until Muttville stepped in to save her the day her time was up. With so much neglect, it is hard to age a dog accurately. We think she is about 10 years old!
Sookie is in very good health and is up to date on her vaccinations. She is a loving little girl dog and is fine with other dogs. She had large hunks of matts hanging all over, so she got her trim, and her first bath and ran all over the yard in glee! She loves people and is anxious to find a new home where she can once again be a loved dog. She loves car rides and is adapting quickly to love and care: Sookie wants to be right where you are! Will you give Sookie a chance?
We're delighted to report that Sooki is currently in a loving and caring home. Thanks to all the wonderful friends of Muttville who helped to make this happen.