Solomon 2775
Dachshund, Miniature Smooth Haired
Male
Small (6-20 lbs)
Status: In memoriam
Dachshund, Miniature Smooth Haired
Male
Small (6-20 lbs)
Status: In memoriam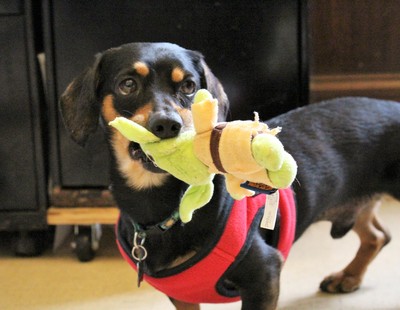 OMG! Royalty is in the house! Solomon is a true king! No way he's a senior – with this puppy face! With all of his energy and great fetch skills, you'd never know that Solomon has heart disease. This sweet adorable pup is a pretty cool fella. He'll do best in an experienced home that is OK with all of his little personality quirks. He may be a little shy around new people at first, but with some time and patience you will become his BFF! We are looking for a home without children that is calm for this boy.
Solomon is OK with other dogs in the home but he can be reactive when on leash. Solomon wants nothing more than to be your one and only, your partner in crime, the apple of your eye!
Solomon is 7 years young and weighs around 13 lbs.
Solomon is an active little guy, watch here!
Sadly, Solomon has passed away. But thanks to wonderful friends, he spent his final days in a loving home.