Sierra 4710
Poodle
Female
Small (6-20 lbs)
Status: Adopted
Poodle
Female
Small (6-20 lbs)
Status: Adopted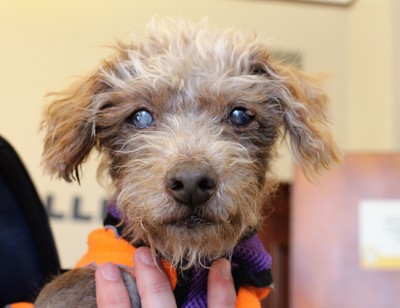 Meet Sierra! This sweet girl comes to us from Contra Costa County where she was found as a stray in very rough shape. Despite her past, Sierra is a happy-go-lucky sweetheart. She loves meeting new people and is very loving. We know she will bond with her new family very quickly. Sierra also does great with other dogs and loves being social and going for walks. This sweet girl has a wonderful temperament and loyal personality. Can you give her the forever home she deserves?
Sierra is 12 years young and weighs 12 pounds.
Here's what Sierra's foster has to say about this sweet girl:
Sierra is a bubbly happy dog! She likes to be near you, be pet on the head & give kisses. She's always bouncing around the house. She also loves to eat!! She is fine with stairs & will go in/out of my dog door if the door is propped open. She is also able to jump on & off the couch by herself. She seems happiest snuggling on the couch and in bed. She has had a couple accidents but mainly she has been using the dog door. She loves Merrick dog food & Nutro ultra senior. She loves to sleep right next to me. She also Loves wearing her little outfits. She is super cute when I come home – gets super excited & dances around.
Watch Sierra enjoying some yummy treats!
We're delighted to report that Sierra is currently in a loving and caring home. Thanks to all the wonderful friends of Muttville who helped to make this happen.