Sheriff 4985
Terrier Mix
Male
Small (6-20 lbs)
Status: AVAILABLE
Terrier Mix
Male
Small (6-20 lbs)
Status: AVAILABLE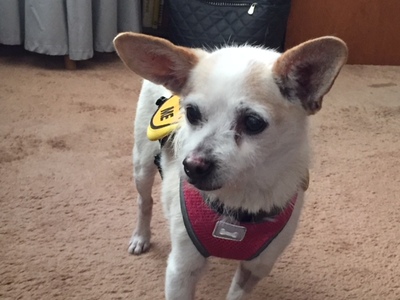 Meet Sheriff! This adorable pup comes to us from San Jose where he was found as a stray and wants nothing more than a loving home.
Sheriff is a spry senior and loves going for walks and exploring. He's a bouncy little guy who loves to run around meeting people and other dogs and is always in a good mood. He is still getting used to his new surroundings but has already shown himself to be smart, sweet, and very loving. Overall, Sheriff is a lovely senior pup with a sweet temperament and great personality. He is sure to make a fun companion!
Sheriff is 12 years young and weighs 8 pounds.
Check out what Sheriff's foster has to say about this cute guy:
Sheriff is a sweet, energetic dog and very easy to please. He likes everyone and is good with the neighborhood kids. He loves to go for walks and trots along at a good pace. He gets along with other dogs and with cats (verified when we took care of a neighbor's cat for a few days). He is house-trained and can be left alone for several hours. He sleeps through the night – about 8 hours.
Sheriff likes to be in the room with everyone but will follow anyone who leaves to see where they are going. He only barks when he is trying to tell you something; he wags his tail, looks at you and talks to you (very cute). He is good in the car. He is becoming more affectionate and is a good kisser. Sheriff would be a great addition to almost any family.
Meet Sheriff, hear about him from his foster mom, watch here
Sheriff needs a new home! Click here to learn how to adopt him.