Sherbert 4330
Yorkshire Terrier
Male
Small (6-20 lbs)
Status: In Muttville's hospice program
Yorkshire Terrier
Male
Small (6-20 lbs)
Status: In Muttville's hospice program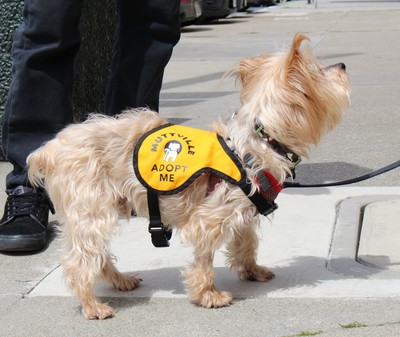 Meet Sherbert! This handsome Yorkie is as sweet as his name suggests. Despite being blind he gets around really well and has learned to navigate his world without vision. He does GREAT with other dogs and is social and outgoing. Sherbert also loves people and can't wait to find his forever home. He enjoys going for walks, exploring, eating treats, and taking naps. He also has hypoallergenic hair! Can you give this boy a wonderful place to call home?
Sherbert is about 13 and weighs 10 pounds.
Due to his advanced age and kidney disease, Sherbert is available for adoption through Muttville's hospice care program.
Meet Sherbert, enjoying a sunspot
See what Sherbert's foster has to say:
Sherbert is an independent, curious, and quiet little guy who gets around really well despite his blindness. Occasionally he likes to climb on and into things but otherwise is fairly relaxed and calm. He does best with two walks around the block per day, or a longer walk in the morning. He's fine with other dogs. He can get startled when he's asleep and needs to be woken up. He is pretty good with going to the bathroom outside and will usually hold his pee through the night. He loves belly and chest scratches, meeting new people, hanging out in the sun, and exploring his surroundings. If you have a laundry bag that's low to the ground and full of clean laundry, he will most likely jump in and take a nap in the bag or pile! He is very quiet-no barking or loud whining, but he does snore at night.
After being diagnosed with a terminal illness, Sherbert is living life to the fullest in our Hospice Program, under which one of our special hospice families has provided him with a loving home and the very best possible end-of-life care. Please wish Sherbert well!

Would you like to support the dogs in Muttville's Hospice Program through a donation? Click here to donate items, services or funds.