Sammi 3580
Shepherd mix
Female
Large (50-90 lbs)
Status: Adopted
Shepherd mix
Female
Large (50-90 lbs)
Status: Adopted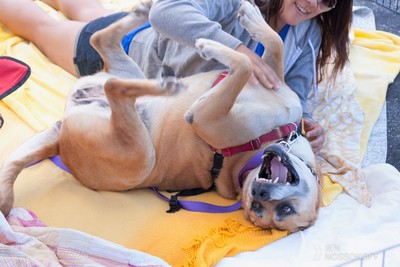 Sammi is a very special girl who deserves an equally special home. She has been through a lot lately, and just wants a family to call her own! This gorgeous girl has gone through some neglect in the past, which resulted in severely infected ears. Her ears got so bad that that we needed to remove them completely. But not to worry, she is feeling much better now and is pain-free! She can't hear any more, but that doesn't stop her from being super friendly with people and enjoying her daily strolls around the neighborhood. Sammi can sometimes be picky when making dog friends, so we are looking for an experienced, loving home for Sammi to spend her golden years in.
Here is what Sammi's foster family says about her, "She is a great dog. She was always in pain and now she is so much happier. She is a lesson to us as she seems so accepting of not having ears and she "hears" the doorbell (though that shouldn't be the case, technically!). We take her on walks and don't really notice much that makes her different. We have no problem getting her attention when we want it and mostly we forget she isn't supposed to be able to hear us! We're always talking to her and calling her name."
We think Sammi is 9 years young, weighing about 70 lbs.
Here's Sammi with her foster family. What a love.
Sammi on a walk after her ear operation, she is all smiles!
Watch Sammi being her cute self at Muttville!
Watch Sammi being silly and playful in the Doggy Loft at Muttville
We're delighted to report that Sammi is currently in a loving and caring home. Thanks to all the wonderful friends of Muttville who helped to make this happen.