Ruben 7648
Chihuahua Dachshund Mix
Male
Small (6-20 lbs)
Status: Adopted
Chihuahua Dachshund Mix
Male
Small (6-20 lbs)
Status: Adopted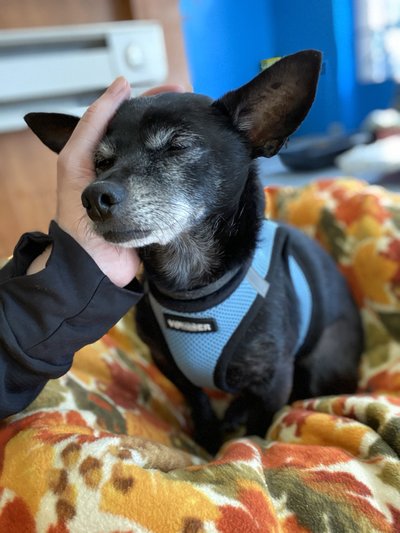 If Baby Yoda were a dog, he'd be Ruben. He has the big bat ears and a wise face – the force is strong with this one. Ruben is a little shy at first, but he warms up pretty quickly. Although he isn't able to make objects levitate with the power of his will, he can definitely work some Jedi mind tricks to get you to give up all of the treats. Ruben is good with other small dogs, loves to go for walks, and is very cuddly. If you need a companion to keep you company while you rewatch the entire Star Wars series, he's your guy.
Ruben is estimated to be 13 years old and weighs 12 pounds.
And here's what his foster had to say
He has already shown a huge improvement within the two days we've had him. He loves to curl up and be next to you, great on a leash (we do two walks a day), no accidents in the house, great with children (5 and 7 years old), and very little barking. I do believe he is deaf or has very little hearing if any, but makes great eye contact and never misses a meal, so his sniffer works! Lol!
STAFF PICK
Ruben is my absolute favorite mutt at Muttville! He is a little black chihuahua with the most giant ears you have ever seen. He is the perfect little package as he is so sweet and snuggly, but also ready to strut his stuff around town. He also has especially extra soft fur which makes snuggling even that much cozier. Ruben at first glance may just be another black chihuahua, but he is packed full of personality and I get so excited to see him every time. Whoever gets to call Ruben their very own will never regret it. He would be the perfect addition to any family!
Love you Ruben,
Jen
We're delighted to report that Ruben is currently in a loving and caring home!