Chihuahua, Short Coat/Mix
Male
Small (6-20 lbs)
Est. age: 11 yrs
Status: AVAILABLE
Chihuahua, Short Coat/Mix
Male
Small (6-20 lbs)
Est. age: 11 yrs
Status: AVAILABLE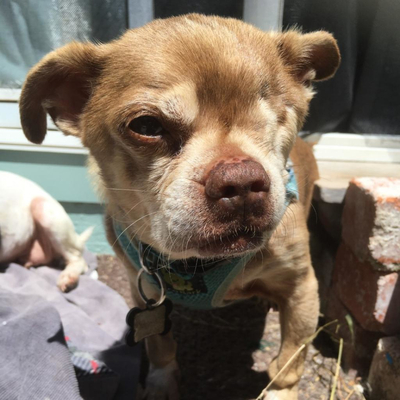 From the mean streets of San Francisco to the safety of Muttville, this little chihuahua mix comes with a "little big man" outlook on life. Quigley seems to have come from a tough life and looks forward to a forever home with a family who will love and accept him for all his quirks and complexities.
Quigley is a bit of a lone wolf and is happiest doing his own thing. He likes to have his head and back scratched as long as it on his terms. He's a good eater and is very good about gently taking snacks from those he knows/trusts.
Quigley's favorite thing to do is to lie out in the sun with occasional breaks inside for water and a cool-down. Quigley likes short walks but does tire after 15-20 minutes. He loves riding in a stroller where he can observe other dogs and people rather than encounter them.
We're working on his house training and he's made great strides! He understands potty pads and although has been wearing a belly band, he's been fine during the day with no accidents! He's happiest in the morning and has even been known to "play a game of hide and seek up and down the hall. In the evening, after dinner and a walk, Quigs wants to get in his bed and stay there uninterrupted until morning.
Though he can manage the two steps at his foster home, he'd probably be happiest in a single story home/apartment. Quigley is best suited for a quiet and mature household. He will definitely do best with a family that has had experience with fearful dogs, understanding that patience and love will help Quigley bloom!
Quigley is a super cute little guy who is fairly independent. He enjoys being near his people and other dogs, but also likes his space. His favorite activity is going out for his walks as he loves a good sniffari! He can walk happily for about 15 minutes. After that he won't complain about staying outside, but sitting in a stroller.
Our guess is that Quigley hasn't had the best past sadly. One vet said "he's been in a lot of pain for a very long time" – but we are helping to change that! He's had a dental, had an infected eye removed, and even had a little toe fixe. It takes him a while to warm up to people and trust them. He is not super snuggly and doesn't want to be fussed over, however he loves to know you are there and will sit in his own bed in the same room with you. He sometimes will even sit next to you on the sofa, but he's not a lap dog.
He is looking for a very special person who understands his independence and is looking for a companion that is not needy. Quigley deserves just as much love and compassion as any other dog and we cannot wait for him to find his person. Are you that person who just wants to help a dog in need and not ask anything in return? If so then Quigley is your guy. His fans at Muttville can see the shining light behind that eye and really want to help him find a home that is going to understand his needs and help him to trust that humans aren't as terrible as he once knew them to be…
Quigley's Adoption fee is being sponsored by The Farmer's Dog!
Quigley needs a new home! Click here to learn how to adopt him.