Precious 2
Chihuahua
Female
Toy (under 6 lbs)
Status: Adopted
Chihuahua
Female
Toy (under 6 lbs)
Status: Adopted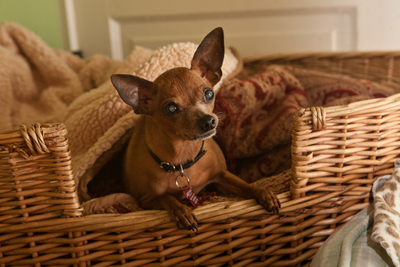 Hello world! I am Precious, a proud Muttville dog.
Sherri came to Animal Care and Control to pick up another deserving dog, when she saw me… I was so scared; trembling and hiding my face under my legs. I am blind & 15 years old after all, and I didn't know what was happening to me. Sherri refused to let me suffer anymore and brought me to Muttville HQ. I am SO happy here! There are lots of nice friends and warms beds. It's really quiet here too. I am happy to finally have some relaxation time. If you are looking for a new companion, I am too! I would love to snuggle with a nice person for the rest of my days.
We're delighted to report that Precious is currently in a loving and caring home. Thanks to all the wonderful friends of Muttville who helped to make this happen.