Posie
Chihuahua/doxie mix
Female
Small (6-20 lbs)
Status: Adopted
Chihuahua/doxie mix
Female
Small (6-20 lbs)
Status: Adopted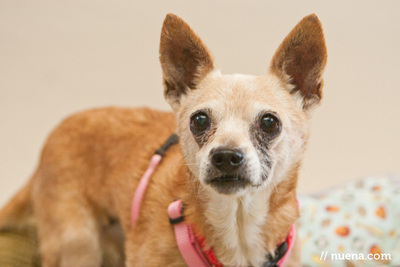 Beautiful Posie was originally adopted from Muttville several years ago. Her elderly mom became very ill and had to rehome her. Needless to say, sweet Posie is looking for someone else who will love her as much, so Muttville is out to find this adorable 10 year old the perfect new home!
Posie is very silly and will always greet you with a wagging tail and plenty of kisses. She is a good eater, and bounces as she takes strolls around the neighborhood. She greets everyone she meets with smiles, and is very loyal to anyone who gives her a lap to cuddle in and snacks to eat.
At home she is compassionate and calm, content to curl up near people or in a cozy bed. She knows her name and is good on leash or off. Posie is very full of love and deserves just as much in return! Posie gets along with cats and is okay with other dogs, but would prefer to be the only dog in the house.
We're delighted to report that Posie is currently in a loving and caring home. Thanks to all the wonderful friends of Muttville who helped to make this happen.