Polka Dot 1433
Tibetan Spaniel
Female
Small (6-20 lbs)
Status: Adopted
Tibetan Spaniel
Female
Small (6-20 lbs)
Status: Adopted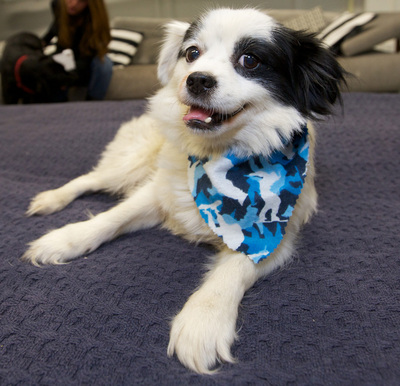 Polka is a gorgeous 8-10 year old Tibetan spaniel who was found covered with fleas on the mean streets of Stockton. Muttville recently took this wonderful senior girl from the Stockton shelter because we knew we'd have no problems finding a home for this angel.
Polka is extremely sweet, affable and easy-going. She loves all people and dogs! She does have some age related osteo arthritis and walks with a wobble, but she can run around, use the stairs and even jump!!
Polka weighs in at 14 pounds and has a smile like no other! Who could pass up this darling little girl that's full of love and covered with polka dots!!
We're delighted to report that Polka Dot is currently in a loving and caring home. Thanks to all the wonderful friends of Muttville who helped to make this happen.