Pocket
Chihuahua
Female
Small (6-20 lbs)
Status: Adopted
Chihuahua
Female
Small (6-20 lbs)
Status: Adopted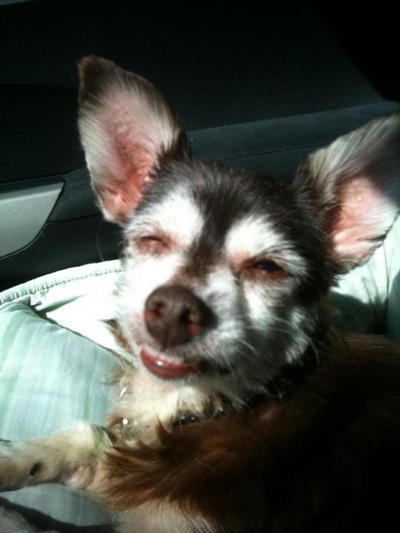 Everyone meet Pocket! I think she was named that because she's a Pocket full of sunshine! Pocket is a 13 year old chihuahua that was rescued from a hoarding situation. All of her brothers and sisters are in foster homes now or adopted and I believe Pocket is very excited about what's to come.
This sweet girl has an unbreakable spirit. She's gentle & mellow & loves love! She gets along great with other dogs and loves the attention she gets when we take her anywhere (and believe me….she's center of attention wherever we go!). People just fall for her! And how could they not? Pocket is fully housetrained, sleeps in her own bed at night (but loves our bed too!), walks great on a leash and has such a joie de vivre. I think she would do great in a home with at least one other dog. If you're looking for a dog that will make your heart melt then look no further….Pocket is your girl!!!
We're delighted to report that Pocket is currently in a loving and caring home. Thanks to all the wonderful friends of Muttville who helped to make this happen.