Chihuahua mix
Male
Small (6-20 lbs)
Status: Adopted
Chihuahua mix
Male
Small (6-20 lbs)
Status: Adopted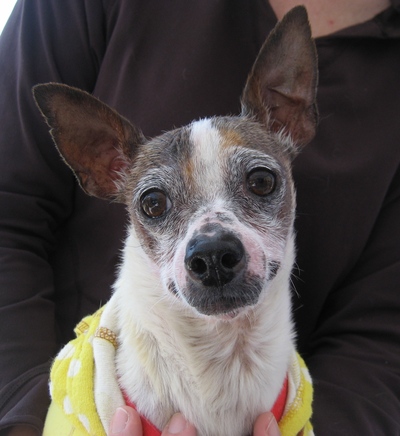 Pinto is a a very, very special little boy. This little guy appears to have been left to fend for himself for most of his life. When he came to us, he was so shut down that he spent the entire day burrowed under a blanket, barely able to bring himself to pop his head out and look at anyone. He was that scared. Humans seem to be a foreign concept to him, much less humans that show him love and kindess. Little Pinto has most definitely known neglect and possibly abuse.
Luckily, Muttville found Pinto, and he is fast on the road to learning to trust and accept love from people and even enjoying being a dog! Now Pinto gets so excited for his chicken dinners that he runs and jumps about! He's bonded to his foster human in just a couple of days, and has zero problems with his foster brother and sister (two very active chihuahuas). He's slowly learning to walk on leash, although he still gets scared if there are too many people or noises around. Pinto will still require a lot of love, positive reinforcement and patient encouragement, but after all that he's been through, he deserves it!
We believe that Pinto is a chihuahua mix. He weighs about 8-10 pounds and we think he might be about 7-8 years old. He is being treated for a skin condition that has caused quite a bit of hair loss, but once the treatment is over, his hair will hopefully grow in as beautifully as ever!
Come meet Pinto today and experience firsthand all the love in this special boy's little heart.
UPDATE (6/23/14): Pinto is doing GREAT in his foster home! He loves food and treats and when he's not playing with his new BFF, Rudy (also a chihuahua), the two of them are nestled together in their little bed. So cute! Also, Pinto is quite the showman on leash! He walks proud and tall now, but is extremely intuned to his human walker and even heels! He's the perfect little dog!
Pinto would do best in a home that has had some prior dog owning experience. He would LOVE a yard but doesn't require one, and he would also love to share his home with another friendly dog about his size or have access to friends on a regular basis that he can play and socialize with. That and some treats and a warm place to snuggle are about all he requires! When the right family comes along to claim Pinto, he will be sure to bring them so much joy.
We're delighted to report that Pinto is currently in a loving and caring home!