Pierre 5220
Terrier Mix
Male
Small (6-20 lbs)
Status: Adopted
Terrier Mix
Male
Small (6-20 lbs)
Status: Adopted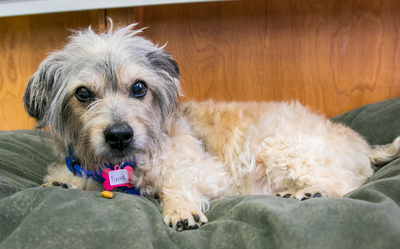 Pierre is a handsome Maltese/Terrier mix who can't wait to meet you!
This darling senior boy is so adorable- he turns heads everywhere he goes with his unique colored fur and big brown eyes. Pierre is a bit shy at first but warms up really quickly once he knows you mean him no harm. This sweetheart would love a patient and understanding adopter to help him blossom and come out of his shell. Pierre is great with other dogs and loves to go for walks and explore the outdoors. He's a special, soulful little dog!
Pierre is 13 years young and weighs 16 pounds.
Check out what Pierre's foster has to say about him:
Pierre is totally wonderful — sweet, social & easy-going. He's very waggy & loving, sleeps through the night, and is good on a leash. Pierre sleeps quite a bit & doesn't need much exercise or entertainment, but is totally perky & adventurous when outside. He is perfectly behaved with our dog & with all the dogs he meets on walks (he loves to say hi). He can be a little shy with people at first but warms up super quickly. He knows to do his business outside but has had a couple of minor accidents (we're making progress with pads). He is SO cute, funny & snuggly. He loves to follow us around & lean against our legs & he is very goofy when he chases toys around. He also likes to press his forehead against ours, which is about as heartwarming as it gets.
We're delighted to report that Pierre is currently in a loving and caring home!