Pia 1423
Chihuahua
Female
Toy (under 6 lbs)
Status: Adopted
Chihuahua
Female
Toy (under 6 lbs)
Status: Adopted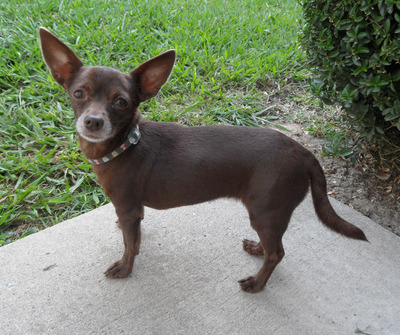 Little miss Pia is the sweetest cuddle mate one could ask for! Muttville took in this five pound, seven year old chihuahua after she was found abandoned by a creek outside of Sacramento.
Pia's favorite things in the world are to be held, to cuddle and to get treats. Her foster parents have been training her on how to use a doggie door and to go outside for walks, and she has been showing off her new potty training talents like a pro!
Pia is aware of her abandonment and past abuse, so nowadays she is enjoying soaking up all the love and affection she can get. She has a very quiet and tender bark, but only uses it sometimes if men are around. Pia prefers to be held by women at first, but she does warm up very quickly with men who are around her a lot. She has been getting along wonderfully with her foster parents' other dogs and kittens, but they have not seen her around children yet.
Pia cannot wait to find her new home and give someone all the love she has left to give!!
We're delighted to report that Pia is currently in a loving and caring home. Thanks to all the wonderful friends of Muttville who helped to make this happen.