Persimmon 7522
Chiweenie!!
Female
Small (6-20 lbs)
Status: In hospice care
Chiweenie!!
Female
Small (6-20 lbs)
Status: In hospice care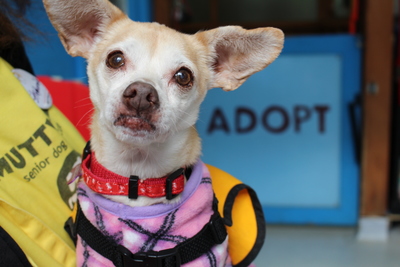 If you were asked to draw a dog, you would draw Persimmon. This divine fruit is light brown with long ears, and has a sweet little personality. Like the fruit, she matures in the fall and is now ready for his permanent home. Persimmons are native to Japan, China, and Korea, and therefore, this cute mutt feels right at home in the diverse Bay Area. She can't wait to share sushi, dumplings and kim chi with you!
Here's what Persimmon's fosters have to say:
Persimmon is SO sweet, she is very quiet, doesn't bark or whine. She really just goes with the flow and doesn't seem to get phased by much. She is great with her meals and meds! She is fine being left alone, doesn't whine or get into mischief, she is also fine hanging out in the large playpen (with a ton of blankets, of course) or gated kitchen while I work (no FOMO).
If she had her way she would spend all of her time in someones lap or burrowed in a blanket fort. She'll go for walks on a leash, slowly, and loves to sniff and explore. She hasn't shown an interest in treats or toys. She is just looking for her perfect match!
Persimmon is a laid-back little lady. She is affectionate & gets attached quickly. Persimmon wants to be around her people, but also likes a soft bed to curl up in & watch the action. She is quiet & is a great companion for watching tv & working from home. When you need to go out Persimmon will calmly wait for you in her bed & is so excited to see you when you get home. Persimmon has little bursts of energy & enjoys a few short walks a day, but will need a big nap after. She loves being outside, sniffing & exploring. Persimmon is somewhat timid with other dogs. I think she would adjust fine to another dog at home, but doesn't have a lot of interest in meeting dogs at the park. Persimmon has playfully chased after a few cats we've encountered, but without barking or showing any aggression. Persimmon is a little shy around big people & big dogs, so it's best not to come on too strong. She will quickly adapt given the chance. Her house-training is great! Persimmon has not had an accident. She waits to go outside & has used a pee pad when home alone for a few hours. She is a VERY sweet, relaxed dog who would do just as well in a house with a yard as a small apartment in the city. She lives for breakfast & dinner. Persimmon also prefers to sleep in her own dog bed at night, so she won't be a bed hog!
Persimmon is estimated to be 13 years young and weighs 10 lbs.
After being diagnosed with a terminal illness, Persimmon is living life to the fullest in our Hospice Program, under which one of our special hospice families has provided her with a loving home and the very best possible end-of-life care. Please wish Persimmon well!

Would you like to support the dogs in Muttville's Hospice Program through a donation? Click here to donate items, services or funds.