Pequena
Poodle
Female
Small (6-20 lbs)
Status: Adopted
Poodle
Female
Small (6-20 lbs)
Status: Adopted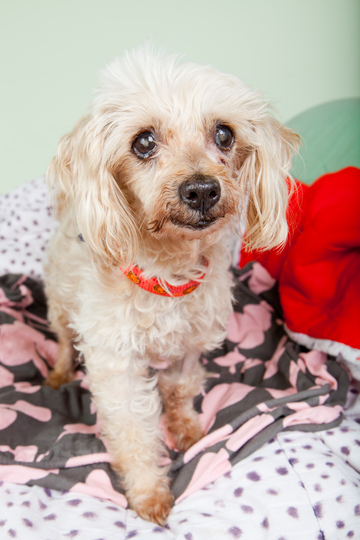 Special needs foster urgently needed!
Pequena is the happiest girl here at the Muttville Headquarters: she hasn't stopped wagging her tail since we rescued her from a Los Angeles shelter.
This 12-year-old poodle is mostly blind, but that doesn't stop her from being an active lady. She is constantly walking around HQ, popping into rooms to see if her people friends are around to cuddle with her. As soon as someone knocks on the floor to get her attention, she tries to climb into their lap and snuggle.
Muttville found out that this little girl has diabetes, but this can be taken care of with insulin twice a day.
Don't you need a happy senior lady in your life?
We're delighted to report that Pequena is currently in a loving and caring home. Thanks to all the wonderful friends of Muttville who helped to make this happen.