Peggy Sue 3707
Terrier mix
Female
Small (6-20 lbs)
Status: Adopted
Terrier mix
Female
Small (6-20 lbs)
Status: Adopted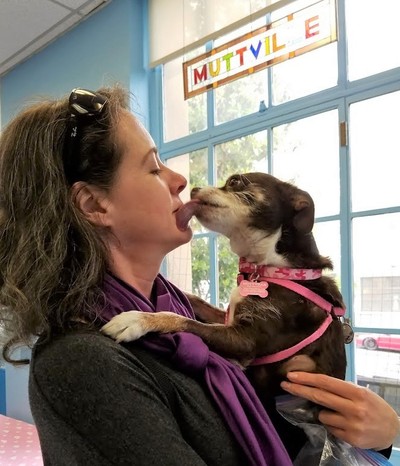 They don't get much sweeter than Peggy Sue! This cutiepie is a true blend of breeds with her adorable whiskers and big smile. Not too big and not too small, Peggy Sue is the perfect size for cuddle time on the couch and walks in the sunshine! She makes human and doggie friends wherever she goes. How could she not? She is such a love!
Here's what Peggy Sue's foster mom has to say about this special girl:
"she lives to snuggle, gets on well with cats and dogs of all sizes, and is playful and goofy. She is so happy and has a great personality. I adore her".
We think Peggy Sue is between 11-13 years young, weighing about 16 lbs.
Watch Peggy Sue enjoy a nice massage!
We're delighted to report that Peggy Sue is currently in a loving and caring home!