Pearl 4
Chihuahua
Female
Toy (under 6 lbs)
Status: Adopted
Chihuahua
Female
Toy (under 6 lbs)
Status: Adopted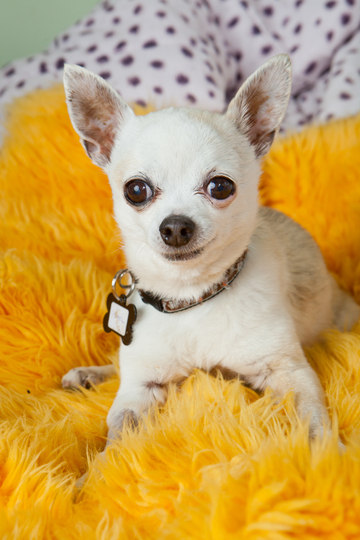 Silly little Pearl is one of the calmest doggies here at the Muttville HQ. She only weighs 4 pounds and fits in the palm of your hand!
Because this little lady is around 13 years old, Pearl sometimes prefers to have time to herself, but we know that once her special person comes around, she'll quickly become that person's shadow – always by that person's side or in the person's lap. she loves to be held and cuddled, too!
Just one look at the big dark eyes, and your heart is bound to be stolen.
Are you Pearl's person?
We're delighted to report that Pearl is currently in a loving and caring home. Thanks to all the wonderful friends of Muttville who helped to make this happen.