Peanut 5
Terrier mix
Female
Small (6-20 lbs)
Status: Adopted
Terrier mix
Female
Small (6-20 lbs)
Status: Adopted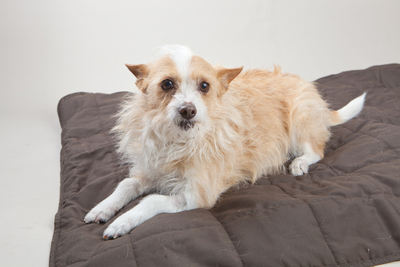 Our sweet little Peanut has faced a lot in her 10 years of life. Her mom put Peanut in a shelter after discovering her own terminal illness, realizing that she couldn't care for Peanut anymore. Peanut is quite sensitive right now.
In just a few days, Peanut has really come out of her shell. We know that she'll blossom and bond with her special person . Each day she gets more comfortable being around people. Today she is rolling on her back, showing her belly for some scratches and kissing the face of her favorite volunteers. She loves to lay on laps.
Peanut gets along with dogs and likely to be okay with cats.
Because this little lady can be shy, Peanut would be happiest in a home with adults. She would be okay with older children who are sensitive to her needs.
We're delighted to report that Peanut is currently in a loving and caring home. Thanks to all the wonderful friends of Muttville who helped to make this happen.