Otis 4600
Australian Shepherd Mix
Male
Large (50-90 lbs)
Status: Adopted
Australian Shepherd Mix
Male
Large (50-90 lbs)
Status: Adopted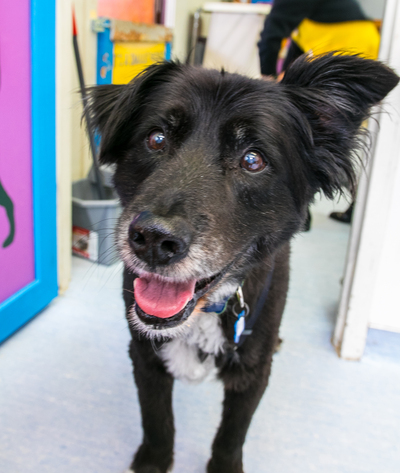 Otis was surrendered to Muttville due to an unexpected change in his previous family's living situation. He was in this loving home since he was a puppy. Despite the transition he's going through, Otis is calm and attentive, showing interest in his new surroundings and politely greeting his new dog and human friends. Otis's previous family describe him as a faithful and loyal companion, who is a great balance of mellow and active. He has lived with other dogs, knows basic commands, and is friendly towards all people, including children. And he's handsome to boot!
Otis is 11 years young and weighs 70 pounds.
Here's what his foster has to say about him:
Otis is super calm & mellow. He is becoming more active as he stays with us. He is good on walks – he can run at a jogging pace for about 2 minutes and then returns to his stroll. He is good with house-training, only one accident on his first day. He likes his dry food with a little water added. He's got one floppy ear which is pretty cute. When he napes he likes to have his legs on his bed but his body on the floor & sometimes he ends up underneath my bed.
We're delighted to report that Otis is currently in a loving and caring home!