One Eyed Willy 7653
maltese mix
Male
Small (6-20 lbs)
Status: In hospice care
maltese mix
Male
Small (6-20 lbs)
Status: In hospice care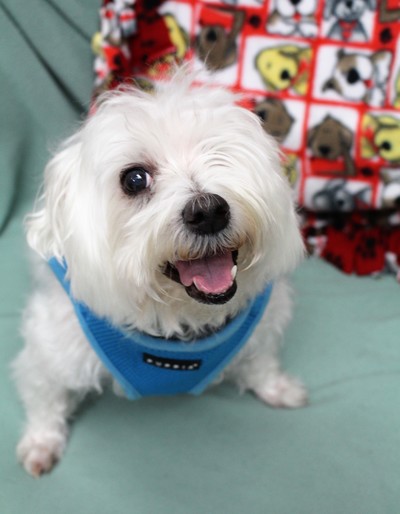 We aren't sure if Willy is a dog or a potato….but either way, this is the happiest dog you have ever met!
One Eyed Willy literally smiles all the time. He wags his tail, he smiles, he loves pets, walks, treats, tv, movies, books, trees, dogs…we could go on and on. Willy is so adorable and round and happy. Willy would make the perfect addition to any family so hurry on down to meet this lovable boy today!
Willy is estimated to be 9 years young and weighs 26 lbs.
Willy's foster mom writes, "Willy is such a fun loving little guy! It's tough not to smile when you're around him. Willy likes all people and dogs, he just wants to be included in the action! Willy is a sweet boy. He likes to burrow under blankets and hangout wherever you are, especially if he thinks there's a snack involved! Willy is quiet and a great roomie. His house training is really good and he'll let you know if he needs to go. Come meet this squishy cutie. You won't be able to resist his button nose and happy energy"
After being diagnosed with a terminal illness, One Eyed Willy is living life to the fullest in our Hospice Program, under which one of our special hospice families has provided him with a loving home and the very best possible end-of-life care. Please wish One Eyed Willy well!

Would you like to support the dogs in Muttville's Hospice Program through a donation? Click here to donate items, services or funds.