Neptune 4591
Terrier Mix
Male
Small (6-20 lbs)
Status: Adopted
Terrier Mix
Male
Small (6-20 lbs)
Status: Adopted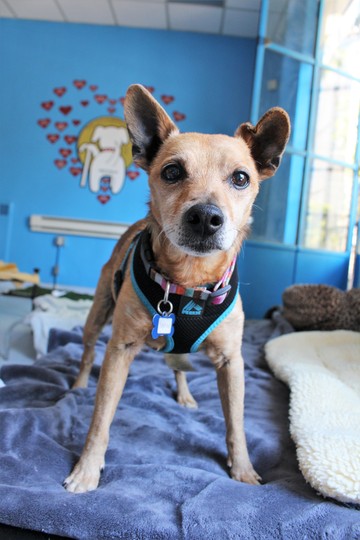 How adorable is little Neptune? This sweet looking terrier comes to us from Oakland. Neptune is still getting to know us and his new surroundings so he can be a bit shy, but he warms up quickly and enjoys petting and grooming. He also loves going for walks! Neptune does great with dogs of all sizes. We know he'll continue to blossom and come out of his shell once he feels safe and sound in his forever home. Come give this sweet guy a chance!
Neptune is 10 years young and weighs 15 pounds.
Watch Neptune and friends in this cute video!
Neptune's adoption fee is being sponsored by one of his fans!
Here is what his foster's says about him:
Neptune is super sweet and learning how to adjust to home life excellently! He can be timid at times, but loves being cuddled and pet, and handles well. He's shown a ton of improvement for house-training, too. He loves to chill in the sun with his foster bro, and hasn't made a peep since coming to our home. His demeanor and confidence has changed so much in such a short amount of time, I'm sure he'll flourish even more with a relaxed and safe forever home.
Neptune is super gentle, very sweet and people oriented. He is curious about our home and loves to go on walks. His energy level has gone up and he does fine on walks up to ~20 mins. He is generally restful/napping throughout the day. Neptune is doing well with his foster brother & shows a lot of interest towards him and is gentle about other neighborhood dogs. He also has not barked or shown interest towards neighborhood cats. He is improving with house-training with the implementation of a routine (2 longer walks in the morning/evening, 2 quick trips outside in the afternoon and later evening). He has a silly habit of draping blankets over his head and making a blankie cocoon to nap or sleep in. And he loves sunbathing!
We're delighted to report that Neptune is currently in a loving and caring home. Thanks to all the wonderful friends of Muttville who helped to make this happen.