Nemo 1399
Poodle Mix
Male
Small (6-20 lbs)
Status: Adopted
Poodle Mix
Male
Small (6-20 lbs)
Status: Adopted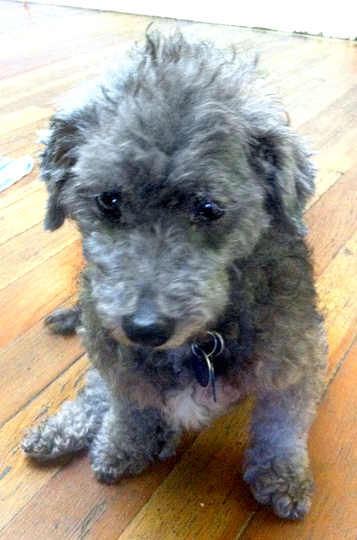 Finding Nemo
Meet Nemo, a very special little guy. Nemo is a beautiful, kind-hearted 7-year-old silver poodle. This peppy pup weighs about 8 pounds, enjoys walks, treats(of course) and spending time with his Muttville friends and people.
But much like the famous Pixar clown fish, our little Nemo needs to be found too – by someone who will understand his unique personality and surround him with the love and security he so desperately wants in a forever home. The truth about Nemo is that until you get to know him, you might get the impression that he's….well, a jerk. He can sometimes appear to bossy or grumpy with the other dogs at Muttville. But what we've all gotten to understand as we've gotten to know him is that Nemo means no harm whatsoever, and even though he may act as though he doesn't want other dogs to approach him, the truth is that he does! In fact, he always wants to be wherever they are and wherever YOU are. It's just that this misunderstood little dog has trouble expressing his true feelings and has a fear of being vunerable. Men, does that sound familiar??
But can you blame him? After living in a state of neglect, Nemo was dumped in a shelter – just one more reason not to trust anybody. But as we're learning here at Muttville, Nemo still has it in his heart to trust those who give him a chance. We've seen a radical change for the better in Nemo since he's come to Muttville. Now he can be found following his favorite volunteers around, leaping with joy when they arrive(caught on video – see below). Now there isn't one person here who hasn't fallen in love with Nemo, and we're hoping and praying for that special person to come along that will finally give him the doting home that he's never had.
Could you be the one to bring this gift to Nemo, light up his life and have him light up yours? Might you be the one to finally find Nemo?
Watch this video of our beloved Nemo, frolicking around like a puppy:
We're delighted to report that Nemo is currently in a loving and caring home. Thanks to all the wonderful friends of Muttville who helped to make this happen.