Myla 4585
Chihuahua Mix
Female
Small (6-20 lbs)
Status: Adopted
Chihuahua Mix
Female
Small (6-20 lbs)
Status: Adopted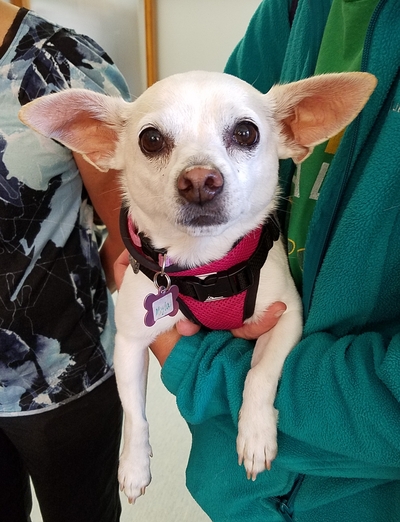 Myla is the most adorable and friendly girl!
This sweetheart loves meeting new people and making friends. She is also great with other dogs! Myla is just about perfect and we know she'll make a wonderful companion. She is so social and sweet we think she'd be a great match for any kind of home. Myla will bond to you very quickly and appreciate all the love you can give. Come meet her soon!
Myla is about 10 years young and weighs 11 pounds.
Here's what Myla's foster has to say about her:
Myla is a very happy and playful dog! Her tail is always wagging and she's always happy to meet new people and dogs. She is very easy going and makes herself right at home. Myla knows her name and will come when called. She is a great walker and goes up and down stairs easily. She is playful and will grab a stuffed squeaky toy and run around with it. She also spends a fair amount of time curled up napping. Myla does well with other dogs, my bossy dog and other dogs of all sizes. She is good with house-training, and is never any trouble when left home alone. She rides well in the car. Myla loves to nap outside in the sun or curl up inside under a blanket!
Hear all about Myla and watch her on a walk!
Meet Myla, she is such a love!
We're delighted to report that Myla is currently in a loving and caring home. Thanks to all the wonderful friends of Muttville who helped to make this happen.