Muriel 4858
Dachshund
Female
Small (6-20 lbs)
Status: Adopted
Dachshund
Female
Small (6-20 lbs)
Status: Adopted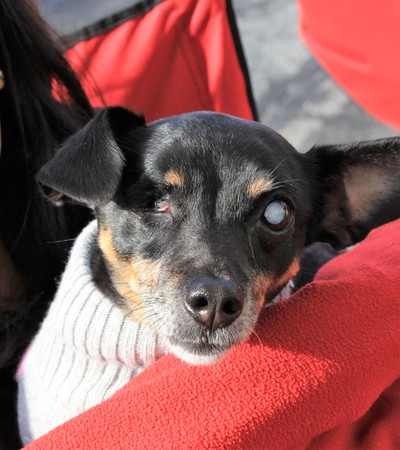 Meet Muriel! Things are finally starting to look up for this sweet senior gal and she couldn't be happier!
Muriel was originally found as a stray in Stanislaus and, despite being brand new, has made herself right at home. Once this sweet girl picks a cozy place to relax, she won't be phased by anything! She is a perfectly sweet and mellow companion who would fit right in to any home. Muriel lost one of her eyes (we aren't sure how) and has poor vision in the other, but this doesn't stop her from being friendly, social, and very loyal. She is also great with other dogs! Sweet Muriel will give you a new outlook on life with her resilient personality- come meet her today!
Muriel is 9 years old and weighs 16.4 pounds.
Here's what Muriel's foster has to say about her:
Muriel is sweet and very affectionate. She is a laid back dog! She could be a professional sleeper, but we make her get up and go outside to play. Muriel quickly learned the route outside to take care of business, and enjoys basking in the morning sun afterwards. Muriel is "respectful" of our two cats. Muriel is not able to see well but she learns voices and sticks close to her human. She makes a little whimpering noise to communicate her needs. Muriel is house-trained. Muriel likes a little vegetable stock added to her food. It softens up the crunchies and makes them easier to chew. She is always ready to watch TV if it means snuggling super close. She likes her doggie bed or will sleep curled up by your tummy if welcomed on the bed. Muriel is very easy to love!!
Muriel is very friendly & outgoing! She loves food & pets. Muriel will nudge your hand until you pet her even if you were busy doing something else. She will crawl straight into your lap & loves walks, she sniffs everything. Her favorites though are belly rubs & chin & ear scratches. She has a lower activity, level. She requires a couple walks a day but no more than 40-50 min in total. Her house-training is really good! She'll go outside or on the pee pad as long as she knows where it is. Muriel loves food & loves people. She's too cute for words!
Hear all about Muriel from her foster Mom!
We're delighted to report that Muriel is currently in a loving and caring home. Thanks to all the wonderful friends of Muttville who helped to make this happen.