Mr. Belding 7622
chihuahua
Male
Small (6-20 lbs)
Status: In hospice care
chihuahua
Male
Small (6-20 lbs)
Status: In hospice care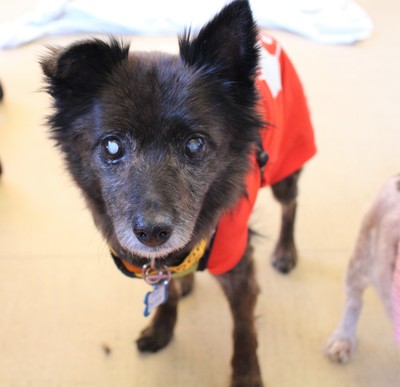 This Principal of Bayside High School walks with authority because he knows the kids listen to him. This gorgeous spaniel mix loves helping people, and has at least some familiarity with all academic subjects. He has a counseling degree, which will come in handy when you're on the couch needing to talk to someone about your problems. Mr. Belding won't judge you, although he might give you detention if you graffiti the lockers. He is looking to retire but needs a plan, hopefully one that involves walking on a leash, and meeting new people.
Mr. Belding is guesstimated to be 15yrs old and weighs 16lbs.
HERE'S WHAT HIS FOSTER HAD TO SAY:
His fur may be black, but this little guy's heart is made of gold! Mr. Belding (Mr B. for short) is such a sweet guy. He is shy at first, but once he warms up to you, all he wants to do is be by your side. He's a good eater and enjoys going for short walks. He's a little explorer and likes sniffing plants and bushes while out for his walks. Mr. B is very quiet and especially loves back scratches. He gets along well with my senior chihuahua. Mr. B is looking for a home where he can keep someone company and take lots of naps. I hope someone gives this fellow the love that he deserves in a furever home!
STAFF PICK
If you are looking for a dog to make you smile everyday than Mr. B is your guy!!! It has been so amazing to see this old guy grow all of his hair back, start feeling so much better, and really blossom into a hilarious old man. Mr. Belding is a dog after my own heart, he looooooves eating and loves snackies. He has cloudy eyes but that doesn't slow him down, he'll bop from room to room hanging with everyone and letting them know what he's thinking. Just ask if you have any questions about Belding!
Love, Kristin
After being diagnosed with a terminal illness, Mr. Belding is living life to the fullest in our Hospice Program, under which one of our special hospice families has provided him with a loving home and the very best possible end-of-life care. Please wish Mr. Belding well!

Would you like to support the dogs in Muttville's Hospice Program through a donation? Click here to donate items, services or funds.