Moca 1395
Pit bull mix
Female
Medium (20-50 lbs)
Status: Adopted
Pit bull mix
Female
Medium (20-50 lbs)
Status: Adopted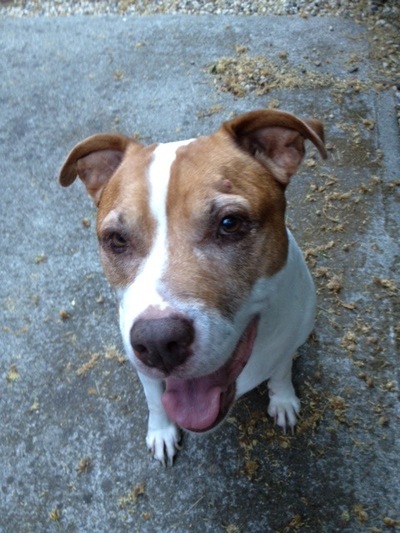 Moca is darling, easy and super sweet.
She is great with other animals, too, She loves attention and is very affectionate and easy going! Her tail never stops wagging.
Moca, whom we call Tonga, is doing well here, and we're still working with her. She's gotten a bit better with our routine but what she likes are leash walks, long ones, and she's a super good walker. She still hasn't taken to the beach, and just stands around and sniffs if she's off leash in wide open spaces, so she doesn't get much exercise that way. She's very gentle and trustworthy – very interested in other dogs, but doesn't really engage with them beyond the initial curiosity. She is a bit timid around people she doesn't know, but tentatively curious and always gentle. She does bark at strangers who come to the house until she gets to know them, but it's more of a grumpy old lady bark than an frightening one. She's submissive to other dogs in the house, and never aggressive.
She's in excellent shape for a 9 year old dog – no arthritis or physical problems. Her very sedentary life with an elderly couple has left her well-preserved, but without a lot of muscle tone. She can trot at a swift pace for a long time, so she's a good walking companion; she doesn't really run except for short bursts. What she loves are car rides, the anticipation of which leads to her hop and dance around like a puppy. She'd be a great companion for someone who drove a lot or did a lot of errands and wanted company. She is also a great snuggler on the couch, and will sweetly lay her head in your lap. She's very attached to her people and will follow you around just to be near you. She has beautiful markings that people frequently comment on, and lush soft fur that doesn't shed.
Look at that big grin! she loves to play with toys and is a good walker, too. Her favorite thing to do is snuggle.
We're delighted to report that Moca is currently in a loving and caring home. Thanks to all the wonderful friends of Muttville who helped to make this happen.