Michael J. Fox 7616
Chihuahua Mix
Male
Small (6-20 lbs)
Status: Adopted
Chihuahua Mix
Male
Small (6-20 lbs)
Status: Adopted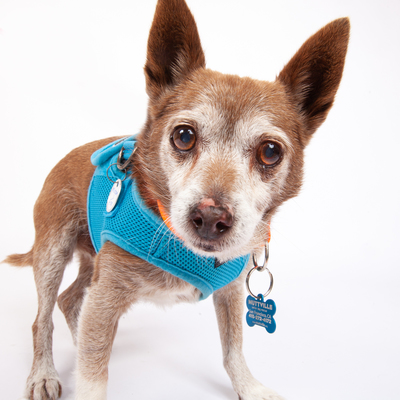 Michael J. Fox … he's a fox on the run!
He barks and everybody comes running! Michael J. Fox is a handsome little scruffy terrier/Chihuahua with beautiful brownish fur and the cutest ears that always seem to be standing at attention at every little sound. Does this sound like our type of dog? It sure does! Whether you are playing for time or just playing around, no one will be more fun to be around than Michael J. Fox. He's a total teen idol … with a little distinguished graying on the side that shows he knows where it's at! The past may be gone, but this little guy is a dog for the future! If you're on a journey back to the future, make a stop at Muttville and meet Michael J. Fox today!
HERE'S WHAT HIS FOSTER HAD TO SAY:
Michael is so much fun, he definitely doesn't act his age! He absolutely loves his walks, and always wants to play, and he has so much energy. His house training is pretty good, but sometimes he can have an accident. He is always perky and tail wagging when we get home. He would be good in an active home. He is very good with small children, and somehow hasn't noticed we have a bunny.
1. He's energetic like a puppy in the morning but settles down and snuggles in the evening.
2. He's a little shadow and wants to be just with you.
3. He puts himself to bed at night very well.
4. He has a chronic cough but is not from an infection and doesn't seem to bother him.
5. He's very quiet otherwise.
6. Great on the leash.
7. When he's off leash he may wonder away from you because he has a hard time seeing and hearing where you are. Just need to call his name and clap.
8. He loves to smell the world.
9. A belly band is recommended at night because he has a hard time making it through the night without peeing.
Michael J. Fox is estimated to be 15 years young and weighs 11 pounds.
We're delighted to report that Michael J. Fox is currently in a loving and caring home!