Matilda 5279
Miniature Schnauzer
Female
Small (6-20 lbs)
Status: Adopted
Miniature Schnauzer
Female
Small (6-20 lbs)
Status: Adopted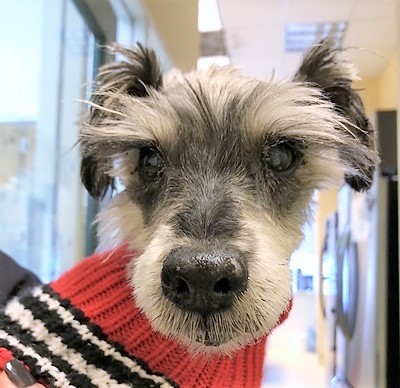 Aren't epic Schnauzer eyebrows the best!
This beautiful Schnauzer girl has aged most gracefully. She shows her energetic and agile side when she gets excited and prances around, but she can also relax and laze the days away like a champ.
We are just getting to know her, and have enjoyed watching her acclimate to her new surroundings. She has been cautious around all the new sounds, smells, and friends at first, which is very understandable considering she was found as a stray near Roseville before she made her way to Muttville. We think that all she needs to truly blossom is a loving forever home and person or family to make her feel like the special dog she is.
Matilda is around 12 years young and weighs 14 pounds.
We're delighted to report that Matilda is currently in a loving and caring home!