Marshall 2
Pekingese
Male
Small (6-20 lbs)
Status: Adopted
Pekingese
Male
Small (6-20 lbs)
Status: Adopted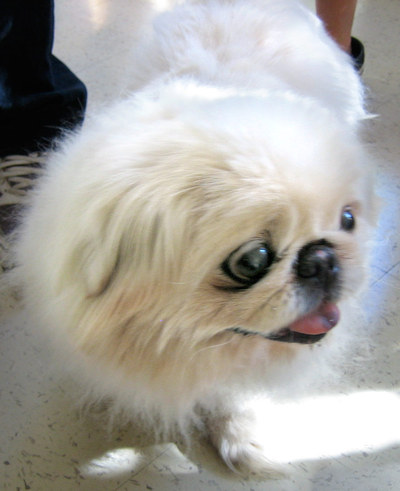 Hi there, my name is Marshall and I'm a beautiful white wiggle worm fluffball! I'm a 10 year old Peke with the face of a puppy. I don't wanna brag, but I'm pretty darn adorable no matter what I'm doing. The pink spot on my black nose matches the black spot on my pink tongue, and sometimes I even purr while I sleep – how cute is that??
I love to go on walks and cuddling next to you on the couch. And I'm good about reminding you when it's time to go, in case you forget. I am fine with cats and other dogs. I also love meeting people and getting lots of pets, but overall I'm a pretty mellow guy.
I do have some back pain, so I need a person who would be able to carry me sometimes and be able to make sure I can get around OK without hurting myself. And even though I get along with just about everyone I meet, sometimes I get a little grouchy when I get overwhelmed, so I would prefer a home with adults only.
But I know whoever comes to give me my forever home, I'll be a good boy that will light up your home with love and cuteness!! Come meet me today!!
We're delighted to report that Marshall is currently in a loving and caring home. Thanks to all the wonderful friends of Muttville who helped to make this happen.