Mabel 7697
Chihuahua
Female
Small (6-20 lbs)
Status: In hospice care
Chihuahua
Female
Small (6-20 lbs)
Status: In hospice care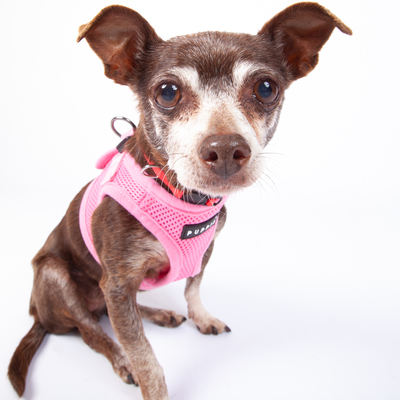 All hands on the table and the winner's Mabel!
Mabel is such a joy; she'll have you dancing on table tops! Mabel is a beautiful Chihuahua with shiny brown fur and the most caring of personalities. Like a prima ballerina on stilts, Mabel knows that every great adventure begins with a small step … and any step with a loveable dog like Mabel is guaranteed to be a doozy! She's that wonderful! She's a beautiful little girl who would love nothing better than to take gentle walks around the neighborhood with, or take a nap in the lap of, her special person. Faith is taking small steps upwards, and an amazing dog like Mabel has a staircase worth of love to give. It's always the small things that matter most. Now, take that step to Muttville and meet Mabel today!
Mabel is estimated to be 12 years young and weighs about 8 pounds.
After being diagnosed with a terminal illness, Mabel is living life to the fullest in our Hospice Program, under which one of our special hospice families has provided her with a loving home and the very best possible end-of-life care. Please wish Mabel well!

Would you like to support the dogs in Muttville's Hospice Program through a donation? Click here to donate items, services or funds.