Lovely Rita 1426
Beagle-Doxie Mix
Female
Medium (20-50 lbs)
Status: Adopted
Beagle-Doxie Mix
Female
Medium (20-50 lbs)
Status: Adopted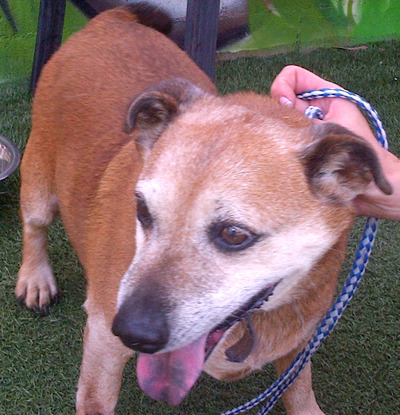 Meet Lovely Rita!
Lovely Rita came to Muttville all the way from Los Angeles and we are so happy to have her! She is one of those mellow dogs that hangs out in the background that you might not notice at first, but as soon as you do, you're like, "THIS IS THE BEST DOG EVER!!!" She's sweet, roly-poly ball of love but with her own special personality!
This stout little beagle mix is about 9 years old, and at about 35 pounds could stand to lay off the pupperonis, although it just means there's more of her to love.
Lovely Rita makes everyone smile and laugh – she's just a happy, happy girl and she will definitely light up your life and your home!
If you're looking for a loving companion that's full of charisma and joy, come meet Lovely, Lovely Rita today!!
We're delighted to report that Lovely Rita is currently in a loving and caring home. Thanks to all the wonderful friends of Muttville who helped to make this happen.