Lily 1371
Pit Bull Terrier
Female
Medium (20-50 lbs)
Status: Adopted
Pit Bull Terrier
Female
Medium (20-50 lbs)
Status: Adopted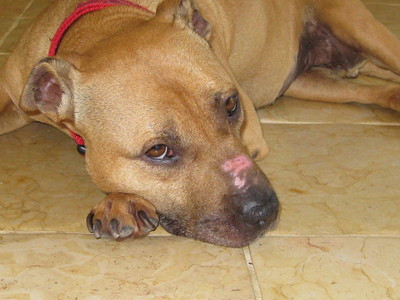 Lily is a beautiful, eight year old little "pocket pittie" – just 39 pounds of cuteness from the black tip of her tail to her black muzzle. In between she's got beautiful, short golden-brown fur with one white patch on her chest.
We think Lily has had a hard life, but you wouldn't know it from all the waggly butt and kissy face she shows everyone. She gets along with both dogs and cats and is totally housetrained.
Right now she's wearing a cast because of a broken front leg, but once that's healed, she should be able to run and play happily. She just wants a family of her own to love, love, love!!
We're delighted to report that Lily is currently in a loving and caring home. Thanks to all the wonderful friends of Muttville who helped to make this happen.