Larissa 5421
Shih Tzu
Female
Small (6-20 lbs)
Status: Adopted
Shih Tzu
Female
Small (6-20 lbs)
Status: Adopted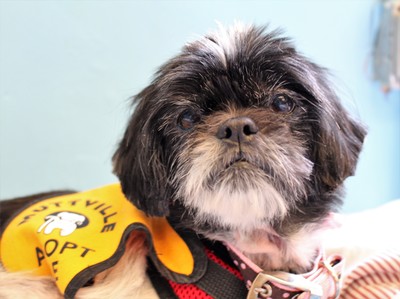 Meet Larissa!
This adorable Shih Tzu can't wait for you to be her new best friend! She is outgoing, very sweet, and trusting. Plus, she's great with dogs of all sizes! We are still getting to know this sweetheart but can already tell what a great personality she has. Come meet her soon!
Larissa is 9 years old and weighs 15 pounds.
Here's what Larissa's foster has to say about this sweet gal:
Larissa is a friendly, affectionate dog. She is great on the leash & loves going for walks. She is calm in the car – curls up in the seat next to me & goes to sleep. At home, she loves hanging out with my 14 year old daughter. She is friendly to other dogs & to people too. She enjoys sitting on the couch next to me & at night, she sleeps on my bed. Larissa can walk for at least an hour & likes to investigate things she smells along the way. She is great on stairs & can jump on & off the couch, & and in/out of the car. Larissa is good with house training with only a few accidents. She loves plain yogurt!
We're delighted to report that Larissa is currently in a loving and caring home!