Katie 3
Beagle
Female
Medium (20-50 lbs)
Status: Adopted
Beagle
Female
Medium (20-50 lbs)
Status: Adopted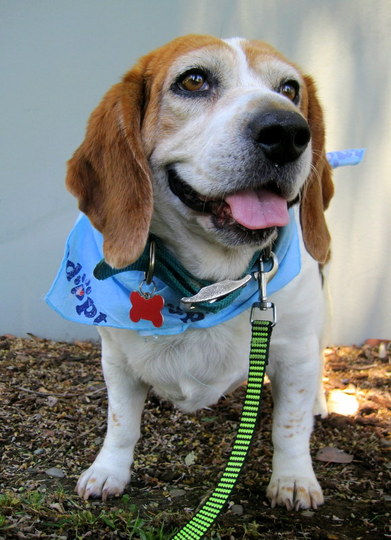 Katie is a dog who radiates optimism and kindness. Despite being dumped at Martinez Animal Control, she holds no grudges and looks forward to adopting a new, loving family.
Our vet discovered a bladder stone (size large) in our poor Katie, something she had been living with for some time. It needed to come out asap and she is currently recovering from surgery. While happy before, she'll be an even happier dog very soon.
Because she is a sturdy girl (45 lbs!), she requires short daily walks and a strict diet. She needs to stay on her special diet for life.
Katie is 8 years old, gets around well and can even do most stairs (slowly). Once she sheds these extra pounds and her health improves, we think she may be a pretty active girl.
She is good with dogs, cats and older children.
Sweetly stubborn in a beagle sort of way, Katie is inquisitive, affectionate and tons of fun to have around.
We love Katie. And who can resist her beautiful snoring and those heart-melting eyes?
Check out her video
We're delighted to report that Katie is currently in a loving and caring home. Thanks to all the wonderful friends of Muttville who helped to make this happen.