JJ 1489
Chihuahua/Pomeranian mix
Male
Small (6-20 lbs)
Status: Adopted
Chihuahua/Pomeranian mix
Male
Small (6-20 lbs)
Status: Adopted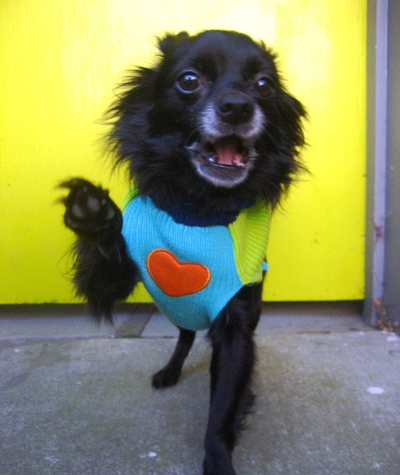 "Hi my name is JJ, people are fooled by my white face, I am no senior dog! I love to play and run and go on adventures!"
JJ is a 6 year old chi-pom, the shelter thought he was older so they called Muttville.
He is a chi/pom/papillion mix and weighs 7 pounds. If you want a little walking buddy and cuddle muffin, look no further!
JJ's foster Mom writes: We call him "Mr. Spunkalicious" in the house because he is so darned cute and engaging! JJ has a lot of expressions, he loves life! When you talk to him, he just listens and watches while his ears are moving, like he really gets it. JJ likes to know where we are going and what we are doing. When we've had to leave him in the house alone, he doesn't whine and seems to accept that we'll be back. He is house-trained, there have been no accidents. He's playful, a brisk walker and a good eater. He sleeps through the night and likes to burrow in the covers, so cute! JJ is on the younger side of senior. He'd do well with an active person. This guy wants to love you and be loved in return!
p.s. He passed the test with the neighbor's cats, so consider him for a brother to your cat, too!
We're delighted to report that JJ is currently in a loving and caring home. Thanks to all the wonderful friends of Muttville who helped to make this happen.