Jim and Fred
Spaniel mix and Chihuahua mix
Male/male
Small (6-20 lbs)
Status: Adopted
Spaniel mix and Chihuahua mix
Male/male
Small (6-20 lbs)
Status: Adopted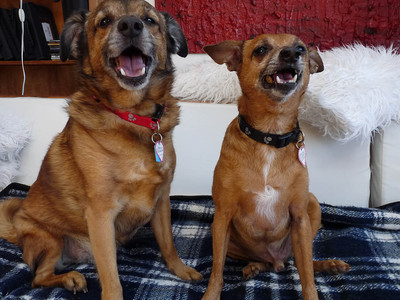 Urgent foster homes needed for perfect little boys!!!
These two dogs are just perfect little guys, like brothers, Jim and Fred are about 10 years young, and are equally fine being mellow and chill or running and playing!
This happy duo have had some loss in their lives, their guardian died and they have been living in someone's backyard.
We are urgently looking for a foster home and adoptive home, we really want them to stay together.
They are low maintenance boys, house trained, crate trained, affectionate and ready to snuggle into your heart and home!
The boys weigh in at about 15 and 20 pounds.
We're delighted to report that Jim and Fred are currently in a loving and caring home. Thanks to all the wonderful friends of Muttville who helped to make this happen.