Jack 3
Cairn Terrier/Schnauzer Mix
Male
Small (6-20 lbs)
Status: Adopted
Cairn Terrier/Schnauzer Mix
Male
Small (6-20 lbs)
Status: Adopted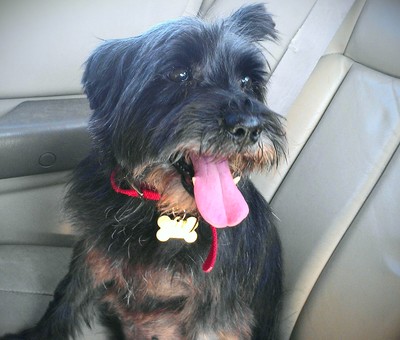 If a snuggle buddy is what you need, look no further than Jack.
Jacks is a mellow terrier mix who is more than happy to just share in your company.
Already potty trained, Jack is independent when needed but also very eager to be your canine companion. He loves walks and trotting around in the backyard, and even more, sitting in your lap or sharing your bed (but only if you offer first). Jack knows a few simple commands, but whoever said you can't teach an old dog new tricks, didn't know Jack. Jack is mentally sharp and quick to learn. While he loves people, cats still remain an enigma to him, so a home where his companions are two legged is ideal. Jack is working on learning to make other canine friends less stressfully, and a kind person willing to help him socialize with his four legged friends would be a perfect match. Overall, Jack is the perfect terrier for anyone looking for a loving homebody ready and willing to please.
from past foster mom*
Hello! My name is Jack and I am a Schnauzer/cairn terrier mix. I was found in a park, all matted and scared, by a good samaritan who took me in, cleaned me up and brought me to the lovely people at Muttville. I was there for a few days and now I am in a foster home with my foster mom, According to my foster family, I am a lover boy and have great manners. I am very respectful of MacDuff, am housetrained and I don't beg for food. I am also OK with the resident cat!
Like my breeds – I am loyal, obedient and quick to learn. I already know "sit", "come Jack", touch paws and am learning to shake hands and paws. I love long walks but all that time in the park without a family has made me a bit leery of other dogs on the leash. I tend to become overwhelmed and will get aggressive when meeting dogs on leash. I have been doing my homework however and must say I am a stellar student! Dogs in San Francisco are much friendlier than the ones I encountered while I was homeless! I really need someone that can keep up my training with this one issue! I also really like people and gentle children – they have been so kind to me, how can I not love them!
I have been neutered (I tell you it was quite a shock after being intact for 7 years!) and have passed all health tests with flying colors! They think I am between 7-8 yrs old but honestly, I think I am closer to 7 than 8! I am in the ultimate stage in life – I am a mellow, California dude who can just chill on the couch or go for brisk walks! I am very easygoing and game for anything!
I would love to find my forever home, I have so much love and devotion to give. I would do well in a quiet home either as the only dog or with one other dog.
Come and fall in love at first sight! You will have hit the "Jackpot" with me!
We're delighted to report that Jack is currently in a loving and caring home. Thanks to all the wonderful friends of Muttville who helped to make this happen.