Hippopotamus 7619
Pit Bull Mixed with Hippo!
Male
Large (50-90 lbs)
Status: Adopted
Pit Bull Mixed with Hippo!
Male
Large (50-90 lbs)
Status: Adopted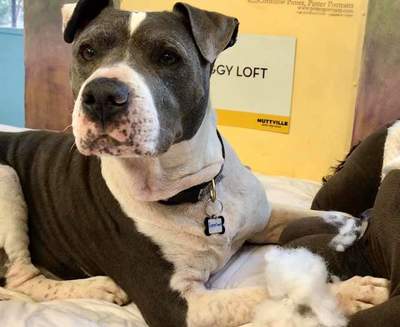 We don't want a doll or a dinky tinker toy … we want Hippopotamus!
Oh, what a joy and surprise, when you open up your eyes … and see a dog hero like Hippopotamus standing there! Hippopotamus is a handsome Terrier Mix with brownish fur and a gentle look about him that shows he cares … a lot! It's in his eyes, there's a heart-touching way that he glances that shows friendly concern and really has the ability to awaken something within us. Isn't vision the art of seeing things that are invisible? Well, Hippopotamus is far from invisible … which is wonderful because there's so much of him to love! He's a summer safari filled with winter dreams; Hippopotamus is the wild life! Come to Muttville and meet Hippopotamus today!
Hippopotamus is estimated to be 11 years young and 87 pounds.
A Hippo fan has sponsored his adoption fee
We're delighted to report that Hippopotamus is currently in a loving and caring home!