Guava 6407
Chihuahua
Female
Small (6-20 lbs)
Status: Adopted
Chihuahua
Female
Small (6-20 lbs)
Status: Adopted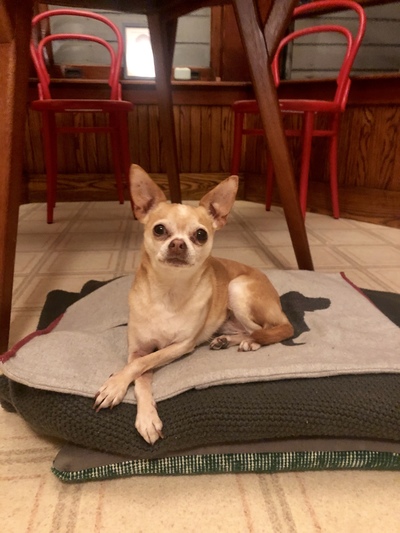 Guava is a super cute little lady!
This little bug-eyed beauty has been through quite a bit of change and we know that she is so deserving of a quiet place to land. As we have watched this delicate flower blossom, we can see that she will completely come out of her shell once she feels comfortable. She is small, super cute and also very sweet! We are hoping for her to find a nice quiet place to call a home of her very own. Are you the one she has been waiting for?
Guava is estimated to be 10 years young and weighs 7 lbs.
Here's what her foster has to say:
Guava is very sweet and cuddly with her people. She is generally very friendly, quiet, adorable and independent. Guava is pretty fast for a tiny senior lady but doesn't need very long walks. She is super happy to be outside and to explore the surroundings but she'll let you know when she wants to turn back home.
She's perfectly housetrained! No accidents on my schedule – early morning, midday, evening and one late night stroll.
Guava LOVES food and is the kind of dog who inhales her meds. ;) Guava's favorite napping places are her own cushy bed with blankets, her sunny daybed on the terrace or on your lap <3
She rolls over on her back for belly rubs all the time and pats your hand softly for more if you stop – so so cute!
Guava is great with staying at home for a while but can't hold her excitement when you come back home. She wags her tail non-stop and wants lots of cuddles :D
We're delighted to report that Guava is currently in a loving and caring home!