Greta 4700
Shepherd Mix
Female
Large (50-90 lbs)
Status: Adopted
Shepherd Mix
Female
Large (50-90 lbs)
Status: Adopted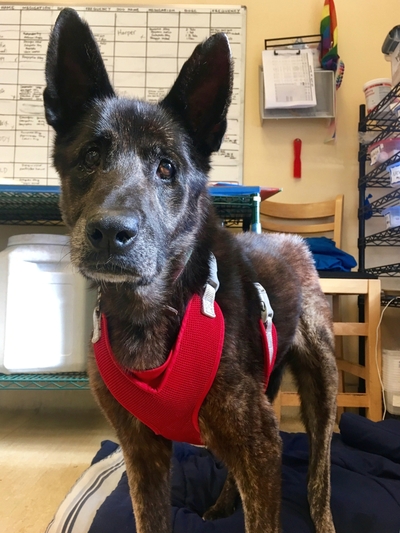 Meet Greta! This stunning German Shepherd mix comes to us all the way from Los Angeles. Greta is a real sweetheart and when she was networked to us we knew we just had to help her. Since arriving at Muttville, Greta has shown herself to be mellow, loving, and very easy-going. Greta does great with dogs of all sizes and also loves meeting new people. She enjoys relaxing, exploring, and going for easy walks. She is ready to love you!! and we know that whomever adopts this lovely lady will be super lucky!
Greta is estimated to be 11 years young and weighs about 53lbs.
Here's what Greta's foster has to say about her:
Greta is friendly, relaxed, loving, intelligent, calm, loyal & sweet! On walks she is easy to handle – eager in the beginning & likes to trot ahead, but after a while she settles down & walks at my knee. Her energy level is low to medium – she did well on a 90 minute hike but also sleeps a lot during the day. She is good with other dogs. She has no problems being picked up & carried and is very gentle with food. Greta is PERFECT with house training. She learned her potty spot immediately, and has not had a single accident. Greta really loves the bed. She also occasionally likes hanging out in the crate but also likes to stay close.
We're delighted to report that Greta is currently in a loving and caring home. Thanks to all the wonderful friends of Muttville who helped to make this happen.