Gracie 1874
Petit Basset Griffon Vendeen
Female
Small (6-20 lbs)
Status: Adopted
Petit Basset Griffon Vendeen
Female
Small (6-20 lbs)
Status: Adopted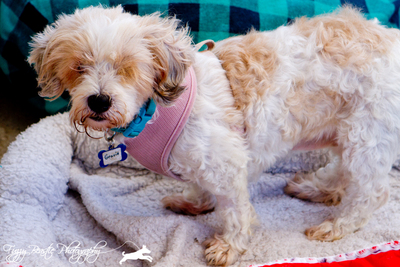 We're in love with this girl, we named her Gracie as she's had a rough life and she'll need a special person to give her the love she deserves. Gracie's quiet and she's fine with dogs, cats and all people. Gracie was found in a backpack, covered with caked-on feces, abandoned – and she's blind, too.
She went to the shelter for a week which must have been awful-not knowing where she was and listening to dogs barking on both sides of her. She circles anxiously, until she tires or is distracted by a loving hand or a slow walk. She responds so well to a loving voice and baby talk and Gracie has been giving us gentle kisses, too. I believe there's a wonderful happy dog in there just waiting to come out, but it will take some time, patience and understanding. Gracie weighs 18 pounds and she may be 10 years old. Will you be her loving person?
We're delighted to report that Gracie is currently in a loving and caring home!