Goldie 1799
Golden Retriever/ Chow Chow Mix
Female
Medium (20-50 lbs)
Status: Adopted
Golden Retriever/ Chow Chow Mix
Female
Medium (20-50 lbs)
Status: Adopted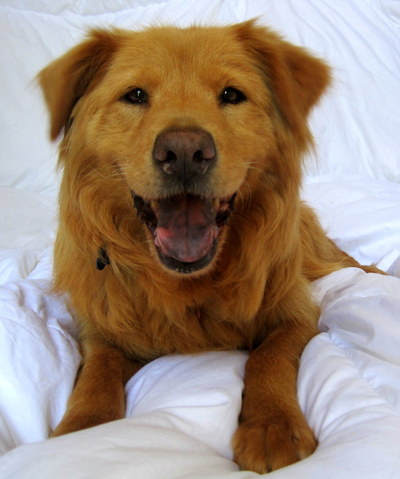 Through no fault of her own, Goldie has been bounced around from home to home, always ending up at the animal shelter. Saved on her last day, we are happy she is safe now. Goldie is a gorgeous 8 year old Golden/Chow mix, very sweet and gentle with people. She's good with older children. We are still deciding if she can live peacefully in a home with another well-matched dog. She is hearing impaired but her vision seems OK and she has the smarts to learn some signing. Goldie loves to go for walks. While she gets around pretty well, she has some arthritis and stairs are a no-go for her. She has an appointment with the vet for a wellness check soon. She may not be a dog park kind of dog but if you are looking for a faithful companion to lay by you as you garden, work, etc., then Goldie might be your girl.
All Goldie really wants is a loving and stable home where she can stay forever.
We're delighted to report that Goldie is currently in a loving and caring home!