Glowworm 7586
Chihuahua
Male
Small (6-20 lbs)
Status: Adopted
Chihuahua
Male
Small (6-20 lbs)
Status: Adopted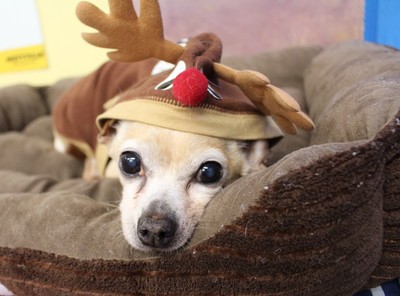 Glow Worm, or Wormy for short, is a small chihuahua mix with a long body and long ears. He doesn't mind that he bears a slight resemblance to a worm, and in fact he loves that he is an effective digester AND great for the planet. Glow Worm is very friendly, and would do well in all kinds of homes, and in all kinds of dirt. And check out his band, Bioluminescence and their hit song "You Light Me Up." Glow Worm is on lead vocals and guitar, and can't wait to serenade you.
Here's what Glowworm's fosters have to say about him:
Glowworm is friendly, calm, curious & somewhat cautious. His energy is low to moderate & he walks well on leash. He is good with other dogs & another same-sized Chihuahua. They stay near each other, but don't interact. He is very good with cats, respectful. His house-training is excellent- makes it on the pee pads better than my own Chi. Glowworm also uses small doggie stairs well. When not eating much he will finish food if hand-fed meatballs of the wet food. Glowworm likes softened Purina Joint diet along with his own Caesars wet food.
Glowworm is perky, affectionate & loves leash walks. His energy level is moderate. He is very good with other dogs & very friendly/respectful with cats. Glowworm is very good at using pee pads. Update on food- Loves Science Diet ID dry in addition to wet foods!
Glow Worm is estimated to be 13 years young and weighs 7 lbs.
We're delighted to report that Glowworm is currently in a loving and caring home!