Geronimo
Cocker Spaniel
Male
Medium (20-50 lbs)
Status: Adopted
Cocker Spaniel
Male
Medium (20-50 lbs)
Status: Adopted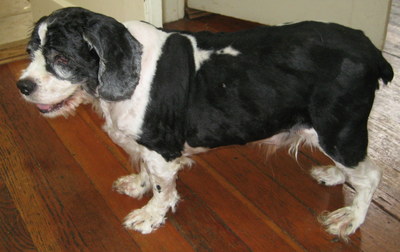 Geronimo is our sweet, kind, blind cocker; we can't believe he was picked up matted and confused on the street in San Jose! Now to find out that his blindness is due to neglect, poor boy. This gentle boy needs a special home where life is consistent and mellow with loving and caring humans. Geronimo loves being with people, which he shows by snuggling up close, making sweet, contented snorting noises, and wagging his darling nubby tail. We think he's about 10 years old; he is fine with other dogs and cats, too. Geronimo seems to be housetrained, and guess what, he snores. So sweet!
Geronimo's a TV star! Our handsome little guy won hearts on his stroll through San Francisco as part of an ABC news story on dog-friendly businesses. This fun story started out in Healdsburg at Mutt Lynch wines, which not only invites pooches to tastings, but donates to rescue organizations. Then to a hot spot for dogs and their caffeinated companions, Spike's Cafe on 19th Street in the Castro, for a conversation with Justin O'Neill who developed a super-cool app called Fido Factor. Then to Under One Roof on Castro, Sports Basement on Bryant & 15th Street. Tiffany, on Union Square, where they know style when they see it, and the manager "was so taken with Geronimo," as the newscaster said, that he offered an engraved Tiffany tag to whomever adopts him! Watch it now: http://abclocal.go.com/kgo/video?id=7142448
We're delighted to report that Geronimo is currently in a loving and caring home. Thanks to all the wonderful friends of Muttville who helped to make this happen.