Felicia 3664
Pointer / Lab mix
Female
Medium (20-50 lbs)
Status: In hospice care
Pointer / Lab mix
Female
Medium (20-50 lbs)
Status: In hospice care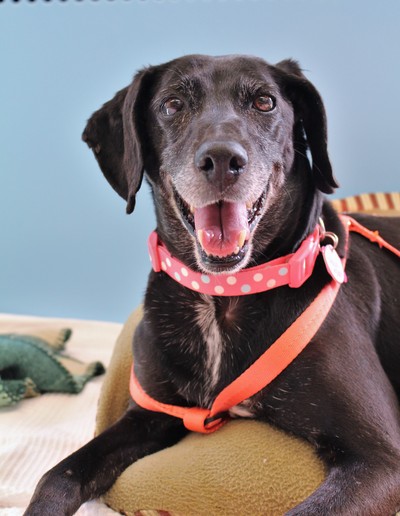 Not too big and not too small, Felicia is just right! She's the perfect size for walks outdoors and for cuddle time on the couch. Once a stray with no home to call her own, she's now at Muttville getting all the love her heart can handle! Felicia gets along great with other dogs and likes meeting new people. Simply put, Felicia is pure perfection!
Felicia was found to have a malignant bladder and vaginal tumors, so we are looking for a loving fospice home for this special girl.
Here's what Felicia's foster home has to say about this special girl:
"She's full of vim and vigor and will drag you all over the neighborhood if you let her! She's springy; she can jump to the porch from the side walk. She gets along well with people of all ages and all dogs. She will come when you call her. She loves to roll in the grass. She's "potty" trained and only had one accident after we first got her".
We think Felicia is 10 years young, weighing about 35 lbs.
Watch how Felicia responds to love
Watch Felicia enjoying the outdoors with her buddy
After being diagnosed with a terminal illness, Felicia is living life to the fullest in our Hospice Program, under which one of our special hospice families has provided her with a loving home and the very best possible end-of-life care. Please wish Felicia well!

Would you like to support the dogs in Muttville's Hospice Program through a donation? Click here to donate items, services or funds.