Emily 2
Shepherd/Beagle mix
Female
Medium (20-50 lbs)
Status: Adopted
Shepherd/Beagle mix
Female
Medium (20-50 lbs)
Status: Adopted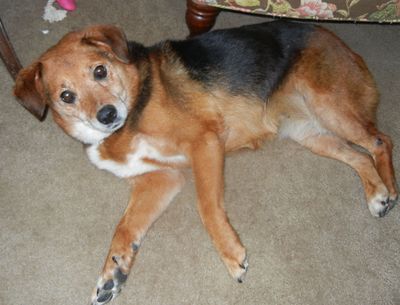 Meet Emily – one of the sweetest, quietest, easiest dogs ever!
Emily is a very laid back, small-medium shepherd/beagle mix. She may have a graying muzzle but she is young at heart. Emily is an excellent walker, she doesn't pull or try to run away, just trots along next to you for a very enjoyable adventure outside. While she loves and needs walks, she is also willing to lay around all day and just enjoy time with her people. She is extremely loyal and doesn't stray.
Please think about taking Emily into your home. All she wants is love, and in return she will give great cuddles and the faithfulness you are looking for in a dog.
Emily is house broken and great with other dogs. She does not bark but does make cute little noises when stretching or laying down. She is just a wonderful, very easy going dog looking for a home to call her own.
We're delighted to report that Emily is currently in a loving and caring home. Thanks to all the wonderful friends of Muttville who helped to make this happen.