Ellie 2
Standard Poodle
Female
Medium (20-50 lbs)
Status: Adopted
Standard Poodle
Female
Medium (20-50 lbs)
Status: Adopted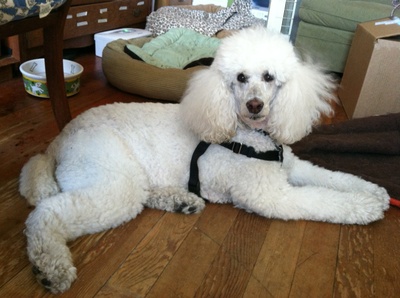 What a regal girl for our humble rescue. Fun, happy and affectionate, this gorgeous standard poodle's mom passed away and Ellie came to Muttville.
Ellie is the perfect lady, 7 years young, healthy, well mannered yet playful.
Ellie gets along great with all doggies and loves to sleep in your bed with you.
She is quiet, except when playing.
She is nervous on leash out in the world and some loud noises spook her.
This lovely lady will melt your heart!
We're delighted to report that Ellie is currently in a loving and caring home. Thanks to all the wonderful friends of Muttville who helped to make this happen.